Oakville Info

Oakville
The town of Oakville is a beautiful lakeside town with a strong heritage and a thriving community of 185,000 residents. One of the only towns in the GTA which has balanced it's small town charm with modern urban feel. Positioned perfectly with a 30 minute drive from downtown Toronto, and an hour drive from the U.S. border, Oakville boasts a million tourism industry, with over 1.4 million visitors annually.
Oakville offers quality schools, great neighbourhoods, close proximity to Lake Ontario, two picturesque marinas, beautiful trails, park spaces as well as 7 beautiful golf courses including PGA recognized Glen Abbey Golf course, which hosted the Canadian Open for many years.
Downtown Oakville offers water front parks, a marina, the Oakville Centre for the Performing Arts, a quaint dowtown shopping experience and an array of eateries and fine dining restaurants. http://www.oakvilledowntown.com/
Schools information: Public sschools http://www.hdsb.ca Catholic Schools http://www.hcdsb.org
There are numerous festivals and events during the year. The Oakville jazz festival brings in Canada's brightest star talent to the stage every year. http://www.oakvillejazz.ca
Need to get todowntown Toronto, the GO train system will get your there in under 40 minutes. http://www.gotransit.com
For the shopping mall experience, visit http://www.oakvilleplace.com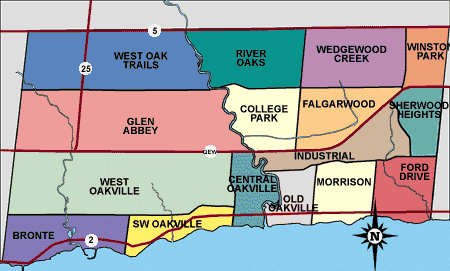 Downtown Oakville
CENTRAL OAKVILLE (Downtown Oakville)
Downtown Oakville is the hub of activity through the year with festive, illuminated trees lining the streets and offering over 400 exclusive boutiques, shopping and restaurants choices with multitude of festivals and events through the year. "Midnight Madness", the "Jazz festival" and the "Waterfront Festival" are a few amongst many. This vibrant neighborhood with newer condominiums and townhomes carrying a price tag of over a million dollars, are prime real estate in Oakville.
Oakville Marina Burloak Canoe Club (burloakcanoe.com)
Oakville Tennis Club (oakvilleclub.com) Oakville Central library and Pool
Wallace Park Tennis Club Oakville Curling Club
Oakville Lawn Bowling Club Oakville Centre for the Performing Arts (Oakvillecentre.ca)
Erchless Museum Lakeside Park and Lighthouse
SOUTH EAST OAKVILLE
These desirable neighborhoods close to Lakeshore Rd. hold great attraction due to proximity to the lake Ontario and the downtown shopping district. Morrison and Ford areas, both offer sprawling estates with multi-million dollar older home with mature trees as well as new custom built homes on over ½ acre – 1 acre lots.
Gairloch Gardens (gairlochgardens.com) Maple Grove Arena
SOUTH WEST OAKVILLE
Extending from Kerr St. to 3rd line, this mature lakeside neighborhood built in the 50s and 60s offers a mix of bungalows, side split homes with some custom built homes in exclusive enclaves and newer luxurious custom homes on generous sized lots primarily on the south side of Rebecca St.
Kerr Village offers a wide variety of eateries and summer brings a lot of activity including live music on Saturdays (11am-2pm), a multi-cultural festival and many others. Another venue to enjoy the outdoors is Coronation park on the lake, bringing live music and plays for residents and visitors with a picturesque park for picnics and bbqs. South West Oakville is also home to the elite private school Appleby College with a picturesque, sprawling campus situated right on the lake.
YMCA of Oakville (ymcaofoakville.com) Coronation Park
Hopedale Mall Kinoak Indoor Skate Park
BRONTE
Downtown Bronte with it's beautiful lakeside park with a boardwalk and Bronte harbor and marina is another charming neighborhood and incorporates the history of Bronte Village. Bustling with vibrant activity through the year, it hosts many events including Canada Day celebrations, Art in the Park and many others. Old Bronte by the lake offers primarily condominiums with beautiful lake view with pockets of single family homes built in the 50s and 60s. "Lakeshore Woods" is a fabulous waterfront community with luxurious homes backing onto forests and ravines. This subdivision built off Lakeshore Rd. between Bronte and Burloak Drive boasts many forests and trails.
Shell Park Bronte Harbor and Marina
Queen Elizabeth Cultural Centre Bronte Harbor Yatch Club (bhyc.on.ca)
Bronte Tennis Club (brontetennis.com)
Midtown Oakville
Clearview and Falgarwood
Just East of Trafalgar Rd. are two areas Clearview and Falgarwood. The homes here were built in the 60s and some in the 70s and has a mix between detached homes, town homes and semis and offer great proximity to Toronto as they are situated just north of the QEW and close to the eastern border between Oakville and Mississauga just off the Ford drive exit on the QEW. This home has more affordable homes and is great for first time home buyers or home owners looking to update homes.
Falgarwood Pool Clearview Park
Winston Churchill Entertainment Centrum Golf Driving Range(familygolfoakville.com)
Joshua Creek Arena
COLLEGE PARK AND GLEN ABBEY
Just west of Trafalgar are two similar communities of College Park and Glen Abbey.
College park is situated West of Trafalgar Rd. upto 16 Mile Creek. This small and mature pocket offers homes built in the 50s and 60s and offers great location close to the mall, Sheridan College and the GO Station. Nestled in this small pocket is Oakville Golf Club. Recently, many lots are seeing custom built homes bringing the value of neighborhood up due to it's central location and proximity to Oakville GO station and QEW.
Just west of College park beyond Sixteen Mile Creek is a great community of Glen Abbey. Consisting mostly of generous sized 2 storey homes, built in the 70s and 80s with some luxurious properties backing on to prestigious Glen Abbey Golf Club. Close to QEW and Bronte Go Station.
Oakville Golf Club Glen Abbey Golf Club
Oakville Place Mall (oakvilleplace.com) Glen Abbey Rec Centre
Sheridan College Glen Abbey Library and Pool
NORTH OAKVILLE
JOSHUA CREEK AND RIVER OAKS
Just East of Trafalgar Rd. is the prestigious community of Joshua Creek / Wedgewood Creek. Homes in this neighborhood were built in 1990s and 2000s and are sold at a premium as it boasts great schools, close proximity to 403 and Toronto with some homes with price tags of well over a million.
Just west of Trafalgar Rd. is another great community of River Oaks, with mainly detached home mixed with some town homes. This neighborhood came up in the 1980s, boasting an array of some Georgian and Coach style homes and a newer pocket called Oak Park, an award winning development built along the principles of "Modern Urbanism" offering townhomes, semi and condos mix surrounded by parks and amenities within a walking distance.
Joshua Creek Library River Oaks Arena and Rec. Centre
Community Centre and Pool Morrison and 16 Mile Creek walking and biking Trails
Glenashton Park with lease free area Rotherglen School (private school www.rotherglen.com)
Five Drive In Theatre (www.5drivein.com) Walmart and Great Canadian Superstore
Glen Orchy
This brand new subdivision recently come up north of Dundas is a well- planned out community close to Shannon Creek.
A mix of townhomes, detached and luxurious million dollar homes with top of the line features and layouts.This neighborhood has walking access to 16 mile Sport Complex, with a state of the art quad pad arena, two lit soccer fields-one artificial turf and one natural grass. Future construction will include a cricket pitch, a leash-free dog zone, a BMX/skateboard facility, a splash pad, a playground, a community centre, an aquatic facility and a library.
NORTH WEST OAKVILLE
WEST OAK TRAILS AND WESTMOUNT
These newer neighborhoods built in the 1990s and 2000s offer great value in homes and great community living and schools offering diversity and younger family demographic. Nestled between Dorval and Bronte Rd, south of Dundas, these communities offer away of home styles from 2 and 3 storey town homes, semi and detached homes from the 400s upto a million dollars.
Pine Glen Soccer Centre (Indoor) New Oakville Hospital (newoakvillehospital.com)
Sixteen Hollow Park with Splash Pad Heritage Trails
BRONTE CREEK AND PALERMO
Oakville's signature upscale community of Bronte Creek and Palermo are set within the rolling hills and natural beauty surrounding Bronte Creek Provincial Park and this subdivision built in the 2000s has premium priced for homes backing on to trails, ravines and forests. The community of Palermo is under development on the corner of Dundas and Bronte Rd.
Bronte Creek Park and outdoor pool (www.brontecreek.org)
Palermo Park coming soon.
THINKING OF BUYING A HOME IN OAKVILLE..?
Having lived and raised my family here in Oakville, I am able to provide a unique perspective on each of the various neighborhoods that this vibrant community has to offer. As a local market expert, who keeps abreast with developments in each neighborhood, I am well positioned to educate you on the type of home and area that would best suit your needs.
Whether you are a first time home buyer looking to make Oakville your home or looking to re-locate here in Oakville….
Questions and queries….. I am here to help.
Direct 416-875-2111